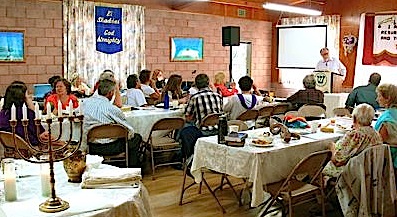 Hallel Fellowship meets weekly on Saturdays starting at noon in Santa Rosa, Calif.
"Hallel" means "praise" in Hebrew. Join us for singing and dancing in הלל hallel to our Father in Heaven, Creator of the earth and the universe. After the dancing, we talk with Him in prayer before listening to Him through His message to us, the Bible. Hallel Fellowship searches for God's instructions for us today in the Torah (Hebrew for "teaching" and synonymous with the Bible books of Genesis–Deuteronomy), the writings of historians and prophets (i.e., Joshua–Malachi) and the writings of the followers of Yeshua (Matthew–Revelation).
12:30 a.m. Setup
1 p.m. Dance & worship
1:45 p.m. Announcements, prayer & offerings
2 p.m. Torah, Writings, Prophets and Apostolic Writings study
4 p.m. Final dance & prayer
4:15 p.m. Kiddush (a symbolic "meal" of bread and wine)
4:30 p.m. Dinner
5:30 p.m. Cleanup
Getting to the meeting
For directions, please send a message via the contact form.