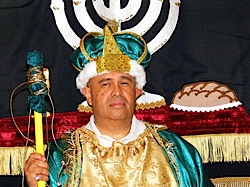 Hallel Fellowship has been celebrating Purim, the Feast of Lots recorded at the end of the Bible book of Esther, with a dramatic reading of the book with pantomime. The fellowship has developed an hourlong version of the book.

Download the book of Esther script in PDF format (152KB).
If you can't view the embedded slideshow, visit the Photos page.