Podcast: Play in new window | Download (Duration: 48:21 — 9.7MB)
We will compare three tragic "couples": Adam and Eve, David and Bathsheba, and Ammon and Tamar. God repeats a story three times to help teach us a lesson about sin and transgression.
He's also introducing Absolom as a Messianic figure. From here, we will be following his life closely for messianic clues.
Thought Questions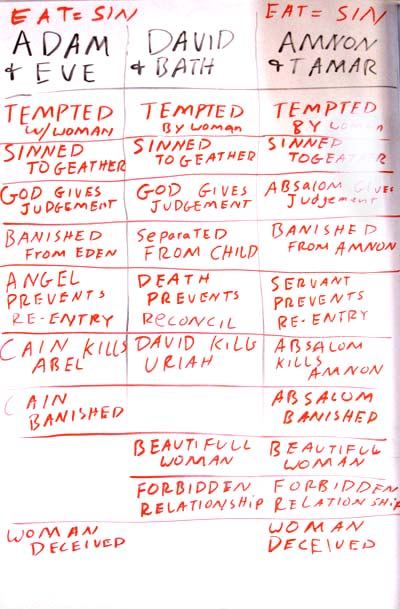 Why did God repeat these three stories in the Bible?
What do we gain from these stories?
How can Amnon and Tamar's story be considered a positive story?
Why didn't David judge Amnon's actions against Tamar?
Who was Yonadab (Joanadab)?
How did Yonadab "set up" Amnon and Tamar?
What did God do for Adam and Eve when they were banished?
How does the dirt that Tamar places on her head hearken back to the story of Adam and Eve?
Who was Tamar's savior?
How did Absolom deal with the deceiver?
How does the number 3 show up in this story?
How was sin in Amnon's heart from the beginning?
Speaker: Daniel Agee. Reader: David De Fever.
---
Recent posts in Discussions
---
Recent posts in Prophets and Writings